One thing we know is that style has a cycle and over the past few years there has been a plethora of flashbacks from the "Oh yeah's" to the "Oh God what are they wearing!" but it seems that the world has finally settled on a style or should we say era?
Have you noticed the overwhelming amount of 80's music, references, style and pop culture references there are around at the moment? Why is this? Is there something about copyright issues with playing music and 80's music is now a free for all? Is it just that there is such a nostalgia for the past because it looks like there is no future?
Maybe this was all sparked by shows like Stranger things? Pose? The 80's themed Black Mirror episode? Glow? ( I mean I could go on but you get the point.)
Since the success of Stranger Things people are jumping on the bandwagon left right and centre. Ready Player One took the lead in the box office and sparked a rise in VR, 80's themed books, games etc. Then we got Bohemian Rhapsody, Bumblebee and a whole host of Horror movies set in the decade.
Now, no matter what TV show/movie you are watching (set in this world, or not) There is some sort of 80's reference or 80'S Music. Far Futuristic Sci-Fi and they walk into an 80's Themed bar, a Prom and all the music is New Romantic and Soap-stars becoming Pop-stars.
Is this like the "Beyonce" bug that everyone caught a couple of years back? Where everything had to be in reference to the great "Queen B" (This is said sarcastically or sardonically, we are not fans.)
There is still ideas that have not been explored, histories to discover, new books to adapt, plenty of music out there from other decades to be played or other eras in time to revisit, but no, it's got to be the 80's or nothing.
Don't get me wrong there is plenty of things from the 80's that were great, The New Romantics and their Cross Dressing, Decadence of capitalism exploding, making millions all over the place, the start of the Internet, Technology surpassing people's imagination and so much more.
But the style they focus on?! Dungarees? The big big hair? Bowl hair cuts? Why? Why haven't we focused more on shoulder pads? Men wearing makeup? or Punk? Let's go back to punk? Even rolled up sleeves, pastel blazers and loafers, that's far better than what seem to be the 'Eighties Style' choices we've got now.
Sure there was good music too, some amazing music and probably better music than currently, but all the same songs keep appearing in every show, surely not every prom slow song can be danced to 'Take these broken wings', or 'Love will tear us apart', cannot be the only song that plays every time the main couple break up.
I mean there is only so many times you can hear Wham!, Pet Shop Boys, Take that, Rick Astley, Howard Jones, or The Eurythmics before banging your head repetitively against the wall. Let's try some more obscure things.
So the question is are we ever going to move on from the 80's? Or is the answer…..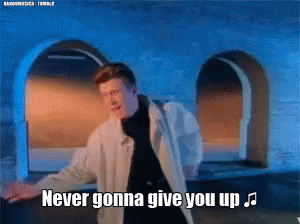 ---
Is this just us or have you noticed the Plethora of 80's inspired stuff too.
Or are you caught up in the Time Warp, with Marty McFly and Doc Brown? Are you sick of it yet?
You could let us know, not that you will, because we only get stupid comments like 'You Suck', but we try. So follow our Social Media too, where you won't see any posts because we don't post on Instagram, we occasionally Tweet something if we remember and don't get us started about Facebook!
So yeah