Before you ask these are not sex toys, they may look a lot like them, may even sound like them when they are switched on, but the only thing they vibrate is your face (At least for me).
If you were paying any sort of attention to beauty and makeup last year you would have seen the Foreo brand playing a big part in all that was skin care. With the rise of the 'get un-ready' trend, this was the one brand that everyone seemed to be using. So after watching so many YouTuber's using this 'miracle' brand, I knew exactly what I wanted for Christmas and low and behold I was gifted it by my mum (Thanks 🙂 ) So did it live up to the hype?
---
Foreo boasts a large collection of devices, from large to small, from round to rectangular and has so many many choices, combine that with the variations on color and I am overwhelmed with options (which is very rare for a product)
After comparing every single device that was available I set my mind on the New Foreo Luna 3, the newest facial cleanser/massager. I bought the one for dry/sensitive skin but you can all variations from oily to combination so check out what would suit you before you buy.
An upgraded T-Sonic Pulse, 16 Different intensities, Longer and Softer touchpoints, rechargeable and waterproof and its slightly larger than the other Foreo's.
To be honest I don't really know what most of this means, all I know is it is rechargeable, waterproof and suppose to be provide you with a deep effective clean.
Given that I would kill to be able to say…
Sadly my skin does not, normally I have very dry skin and am prone to stress/hormonal break outs, mostly around my chin area. I have tried so many products, which have included the cleansing brush, weekly masks, Clinique Ultra Sonics, Aztec Masks as well as multiple creams prescribed by doctors.
Now thats all said and done what did I think of the product?
It has been a month since my Foreo came along so it hasn't been that long but I have already noticed a difference, it hasn't been a 'miracle cure all' for my skin… Yet.
I noticed the brush points are so soft! A nice welcome from some of the harder bristled Sonic Cleansing Rotating Brushes like the Clinique and Magnatone.
Now just to say I will be doing a product review of my cleansers and skincare regime real soon, because I've found some great products recently. So watch this space!
My process has been; Remove makeup, cleanse, then onto the Foreo, I add my whipping cream cleanser to my face then switch on the device.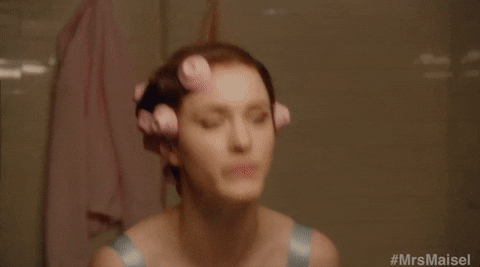 I more often than not use the Foreo manually, you can use the app on the phone which I have a number of times but to be fair I don't often take the phone into the bathroom with me and prefer to just use the switch on the back. However if you use the app you can follow the visual guide and adjust the strength of the vibrations.
60 seconds is all it takes, it targets the forehead, cheeks and chin and notifies you when to move the device to each section with a brief change in vibration.
When you have finished the 60 seconds you can either repeat the process again for a second time or you can finish there.
I have begun to notice I am reacting like this
A huge change! My skin feels so clean! I put on my products and I am on my way.
I have found some of my skin is 'purging', I found a few break-outs forming on my skin which apparently this is perfectly normal due to the sonic vibrations clearing the toxins out from the deeper layers of my skin and I guess if it's improving my skin in the long run, Its probably better out than in, but may last until your skin gets used to it and the impurities are expelled from deep inside (this can be up to a month).
My skin certainly doesn't feel dry anymore and I do seem to be getting all my makeup off at the end of the day! YAY!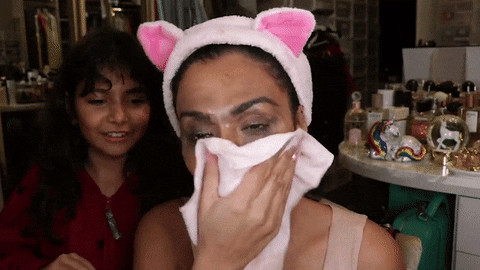 I have yet to try all of the massage section of the Luna 3, but have tried the contour crazy but will endeavour to try the other 3 soon. The reviews say that using the massages daily can help tighten and firm skin so I look forward to testing that out soon. Maybe I'll add a paragraph on this at a later date.
So all in all I am happy! Normally I wouldn't fall into the hype but my skin feels soo good!
The product wasn't oversold and does exactly what is advertised, so if your looking for a skincare upgrade go and buy yourself one.
You can get the Foreo in all of it's variations from the website and they do range in price dependent on what you want/need.
So there you go all in all I have a brand new skin regime and some brilliant tools to help me on my way to the shiny skin I've always wanted.
---
There you go have you tried the Foreo? What have you found?
Let us know in the comments below and stay tuned for more stuff and things next week.