Whilst everything has been in lockdown, I have been taking the opportunity to try new things, to pamper myself and most importantly look after my body, skin and soul. Well over the past couple of months I have been seeing people trying out this "Lash lift" trend and thought why not? So I bought a kit on Amazon and off we go.
---
I naturally have long (long) eye-lashes it seems to be the first thing people notice, but I have always felt like they struggle to curl upwards without the help of heat and eyelash curlers.
So seeing some of the results of the beauty gurus on Youtube I was eager to try.
There are so many options of which company to go for etc but I ended up going for Maycreate, you can purchase here..
When I first opened the kit, I was daunted, you look at all these little pots of liquid and a million thoughts run thought your head.
"Will I shortly be blind? Will my eyelashes fall out?"
After thinking about using the product for a few days and resolving that I bought it, so I have to use it – at least once, I got to it.
So the instructions are a little vague, I actually ended up looking on youtube for a walkthrough, which proved helpful also put my mind at rest knowing others had tried this product and thought the same things as me.
You start by cleaning and cleansing your eyelashes – I did this with the cleaning solution and a Q-tip.
Then you look through the selection of lift-up pads and try and find one that
A. Matches your eye-shape and isn't to large
B. That fits your eyelashes.
I struggled with both of these, as my eyelashes were too long and ended up fitting the L1 but clearly they are for anime eyes as they are so huge! I haven't yet but I will probably trim them down to make them a more suitable size.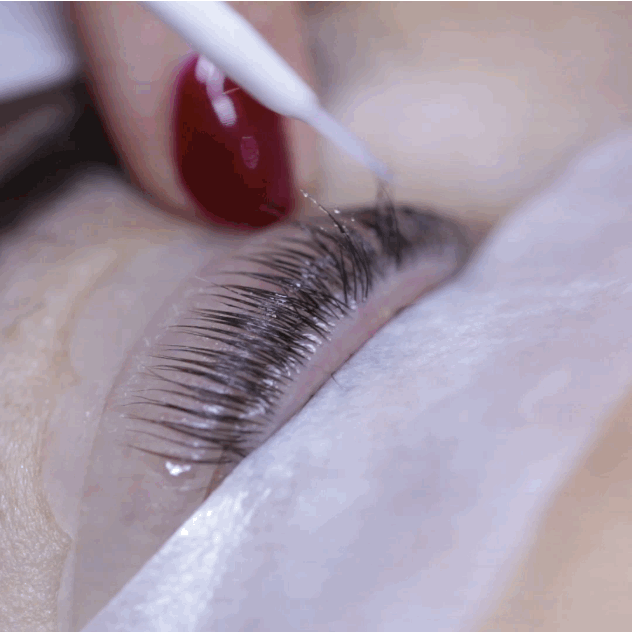 Then – and this is where its a little scary – you glue the lift pads to your eye lid and then glue your eyelashes to the outside of the pad. You have to use this bizarre looking tool to push all of your lashes on to the stickiness and then once all is stuck and your left looking like…
Once all the lashes are stuck you apply the perm lotion, all over the lashes, it stinks! You have to leave it for 8-12 mins, I left mine for 10 – as I am both impatient and it is surprisingly uncomfortable having something stuck to your eyelid. You were suppose to put a clear wrap over the top but to be honest I forgot and by the time the solution was on it was too late.
After the 10 mins you add a fixing agent – which is blue and gives the appearance of having some sort of strange eye infection – again you leave for 8-12 mins, once again it stinks!
Once all of that is done, you clean off the eye pads and apply the nourishing lotion.
Then you get the cleaning fluid again and gently brush your eyelashes to get rid of any excess oils and to pry it off of the eye pad – which is both tricky and you have to be gentle so you don't loose any.
Then it is done! You can see instant results, of course my eyelashes aren't dark so I will have to think about dying them but honestly they look so much more open and curled. I hardly have to work with my mascara. Obviously you are working with what you already have so don't expect to see a false eyelash effect but instead just a natural enhancement.
So all in all I am happy! I don't know how long this is suppose to last but I will reuse when the effects wear off.
So if you are thinking of trying but been too scared, hopefully this helps you take the chance.
---
Have you tried DIY eyelash lifts? What did you think?
Leave a comment and don't forget to subscribe 🙂