We went a long time without ever trying Bubble Tea but eventually succumbed and got a drink at Bubbleology which sadly was a faltering start. We found that bubble tea is not bad but what we have tried could be better.
But Bob found another variation to try, Milk Tea!
So Bob is really into Asian Culture and Music pretty much everything!
We watched Parasite like everyone else and we have partaken in a some of the nations best and some of the worst films and TV.
Currently we are watching a lot of Korean TV shows – given that most North American TV Shows seem to be on a hiatus at this time. And what have we observed about Korean TV? And what is different to US TV?
Mostly they eat a lot! And Drink and eat more!
And not just in the dramas, but reality shows are based around food and they are very heavily sponsored. A good drinking game (maybe taking shots of Soju) would be to drink every time someone holds a bottle or dangles a key fob with the logo of a Daihatsu in order to make it obvious to the camera.
One of the worst for Corporate Placements we have seen is the show, The King Eternal Monarch, where they frequent not only the Olive Garden Chicken Shop, but also The Alley Milk Tea Shop and pause while perusing the menu, laying a hand next to the logo, so the camera can pan over the page and show off every form of drink they sell.
It was while watching 'King' the other week that Bob noted;
'There is one of those in Holborn apparently', followed up quickly with 'We should go, it looks good!'
So last week we found ourselves walking along High Holborn looking for the first import of this large Taiwanese Milk Tea Shop in England. It isn't as picturesque as Nari's shop in TKEM with its seating areas and the occasional white horse outside! but the shop could be quite nice, if it wasn't stacked high with chairs, cordoned off areas and the obligatory plastic screens across the counter that are probably never going to go even after this pandemic is behind us.
But we weren't here for the decor, we want Bubble Tea and the choice system seems interesting, there is the Popular choices, which are boldly displayed on windows, A boards and on the counter and were the easiest choice to pick from, but there are also a number of choices on overhead boards and screens and unlike our previous experience the staff are knowledgeable and want to help, rather than bored and don't listen.
We have now been there twice and have made two very different orders.
The first time we ordered 1 Dalgona Coco Brown Sugar Deerioca Milk and 1 Dalgona Brown Sugar Deerioca Milk both with Soya.
We got one of those buzzer toys that bleeped when the order was ready, not that it was needed as the shop isn't big enough to move away from the counter, but when it buzzed a few minutes later we took our drinks and walked and sipped
From the first sip Bob was in love!
My god it was delicious! the liquid was yummy! My only quibble was that there was slightly too much tapioca but honestly thats personal preference.
I thought it was a comforting taste! Yummy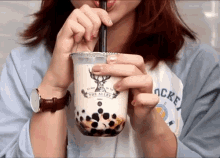 The second time we returned with Bruffin in tow, Ash had a Soy Earl Grey milk tea, Bob had just a Cocoa Brown Sugar Deerioca and Bruffin had the Dalgona Coco Brown Sugar Deerioca Milk.
The second time it was much busier but with the quality we understand why!
We will be back, possibly to try some of the more yoghurt drinks
Then we walked and played the 'how many Asian restaurants are there in Red Lion Street game'. Answer way too many! (26)
---
Have you visited the Alley? Let us know in the comments below.